High School
Spelling: Proofreading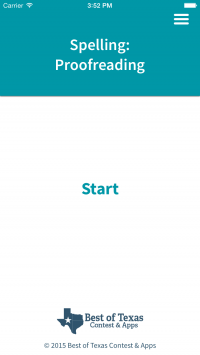 Best of Texas Contest's Spelling: Proofreading for high school students helps you learn all the words for the Proofreading section of the Texas UIL Spelling contest.
Select the incorrectly spelled word from a group of five words.
Type in your spelling.
Get immediate feedback.
Incorrectly spelled words stay in the mix until you have spelled them correctly.
Track your progress as you go.
Ten sets of 150 words.
Includes all 1500 of the words in the UIL "Word Power".